Space-Engineers.de - [DE/EN] PvP Economy Challenge

About
Address
se.space-engineers.de:27016
Hostname
[DE/EN] Space-Engineers.de PvP Server
Status
Checked <1 minute ago
Players
0 / 25
Location
Germany
Version
1191107
Platform
Windows
Map
Economy Challenge Server
Website
https://Space-Engineers.de
Registered by
steff123456789
Registered since
October 30th, 2016 12:27 PM EST
Last update
March 14th, 2019 08:25 AM EST
Tag(s)
Faction Modded PvE PvP Survival
Share This Server
Discord Server
Teamspeak Server
Statistics
Uptime
Vote(s)
0
Rank
47
Score
2
Favorited
7
Discussion(s)
0
Share This Server
Description
Willkommen bei Space-Engineers.de
Welcome to Space-Engineers.de
SE.de ist ein PvP-Server mit umfangreicher Ökonomie, die auf ständiger Ressourcengewinnung setzt. Als Spieler musst du Rohstoffe durch Bergbau und Verabeitung oder im Kampf sammeln, um diese an Handelsstationen gegen Limiterium und Space Coins zu handeln. Nur mit diesen kannst du neue Strukturen (Stationen und Schiffe) vor der Löschung bewahren oder Extra-Blöcke kaufen, um mehr von diesen bauen zu können.
Bei PvP-Events bekommst du außerdem Zugang zu Nadium und andere wertvolle Beute.
SE.de is a PvP server with an extensive economy based on constant resource extraction. As a player you have to collect resources through mining and processing or in battle, to trade them at trading stations towards Limiterium and Space Coins. Only with these you can save new structures (stations and ships) from deletion or buy extra blocks to build more of them.
PvP events also give you access to Nadium and rewards that can be exchanged for valuable special systems.

Space-Engineers.de ist Teil unseres Spielenetzwerks (
https://Medieval-Engineers.eu
)
Handels-System / Trading-System:
Alle Infos:
http://Handels-System.Space-Engineers.de
All information:
http://Trading-System.Space-Engineers.de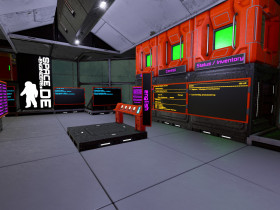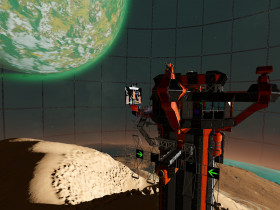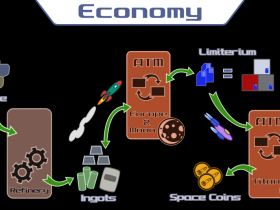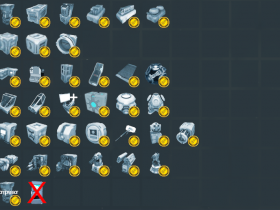 Nadium Technology:

Nadium ist ein seltener Rohstoff für leistungsfähige Systeme (erkennbar an violetten Kristallen), der am Rebellenstützpunkt zwischen Erde und Luna gesammelt oder bei Events erbeutet werden kann - Halte Ausschau nach Schiffen der MCRN! Für manche Blöcke muss er in einer Zentrifuge in Nadium-Kristalle umgewandelt werden. Das Erz Talonit findest du derzeit einzig auf dem Alienmond Titan - zum Gas Talon verarbeitet dient es als Treibstoff für die besonders kräftigen Talon-Triebwerke (erkennbar an einer grünen Flamme).
Nadium is a rare raw material for powerful systems (recognizable by violet crystals) that can be collected at the rebel base between Earth and Luna or captured at events - look out for MCRN ships! For some blocks it must be converted into Nadium crystals in a centrifuge.
The ore talonite can currently only be found on the alien moon Titan - processed into gas talon it serves as fuel for the particularly powerful talon engines (recognizable by a green flame).
Alle Infos / All information:
http://Nadium-Technology.Space-Engineers.de



Der Officiale Space-Engineers.de Game / Teamspeak 3 / Discord Server:
Teamspeak IP:
ts3server://ts3.Space-Engineers.de
Teamspeak IP: ts3.space-engineers.de
Discord Server:
http://Discord-Server.Space-Engineers.de
Webseite:
https://Space-Engineers.de
Forum:
http://Forum.Space-Engineers.de
Space Engineers Server Infos:
http://Server-Info.Space-Engineers.de
Space Engineers Serverregeln / Server Rules:
Alle Infos:
http://Serverregeln.Space-Engineers.de
All information:
http://Server-Rules.Space-Engineers.de
Dir gefällt, was wir machen?
http://Spenden.Space-Engineers.de
You like what we do?
http://Donation.Space-Engineers.de
If you have any questions or problems, please contact our support team:
http://Support.Space-Engineers.de
Unser Dedicated Server Übersicht:
http://Dedicated-Server.Space-Engineers.de
Viel Spaß auf dem Server!
Das Team von Space-Engineers.de
Have fun on the server!
The team of Space-Engineers.de